The ARYANS (2014) by Mo Asumang
A documentary in which an African-German gets to he bottom of right-wing movements worldwide - and their completely wrong interpretation of "Aryanism" - a phenomenon of the tall, blond and blue-eyed master race established by the French philosopher Gobineau, It went on with the Nazis, and still promotes hate and racial murders today. Filmmaker Mo Asumang sets out for a tour de force into the abyss of the political evil in Germany and the US. She travels to places where the real Aryans originally came from an area which is now part of Iran.THE ARYANS is a personal journey into the madness of racism during which she meets German neo-Nazis, the US leading racist, the notorious Tom Metzger and Ku Klux Klan members in the alarming twilight of the Midwest.
WEBSITE: The ARYANS / Die ARIER (click to open)
NEW !!! The ARYANS / Die ARIER on Facebook now
facebook (german)
facebook (english)



Awards and nomination
​at Filmfestival Turkey/Germany (March 16th 2014)
Öngören Award for Democracy and Human Rights
at Phoenix Filmfestival (USA) April 6th 2014)
World Cinema Best Documentary
World Cinema Audience Award.
at achtung Berlin Filmfestival / new Berlin Film Award 2014)
nominated for
Price of the ecumenical Jury (2014)at Filmfest Mecklenburg Pommerania (Mai 2014)
Diversity Award
at Shanghai TVFilm Festival, China (June 13th 2014)
Magnolia Award (for Best Director)
nominated for PRIX Europa 2014German Directors Award "
Metropolis" for Mo Asumang, Nov. 2014
nominated
for
Interrnational "Gold Panda" Awards, China, Nov. 2014
nominated for
Adolf GRIMME Award, 2015english PRESS:
April 2014
usa today Article about Mo Asumangs new documentary "The ARYANS"
Interview by Dewayne Wickham
(click for article and VIDEO)
Interview BBC with Mo about her new documentary "The ARYANS"
BBC Interview with Mo Asumang (click)
Global TIMES (click)
---
---
Roots Germania (2007)- a personal search for identity
Roots Germania Film Poster
The identity search of the afro-german Mo Asumang started when she first heard the song that called for her murder "This bullet is for you, Mo Asumang" sang by the Neonaziband "White Aryan Rebels". Instead of hiding Mo was driven by her desire to overcome her fears and sets out for the most exiting journey about Identity. The Film is an intimate look into her family History makes clear how deep racism has already touched the lifes of her German Mother and Ghanaian Father.
On her search for Identity, Mo even follows the advice of the Neonazis to "Go back where you came from!" But in Ghana she is seen as a white person. In Ghana Mo explores a new view onto the topic roots, they are international she says. In the film Mo combines her german and ghanaian roots and opens the topic in a playful way to society and even takes it out of the rightwing corner.
Roots Germania is a Roadmovie between questioning pseudo-germanic ideas of right wing populists and finding Identity and self-confidence as a AFRO - GERMAN.
Press:
Brunhild with Afro-Look
......Riskily Roadmovie.....Esoteric Cross-over-trip
SPIEGEL
Adolf Grimme Award Nomination in 2008
Nominated for the Award of the the ecumenical Jury @ aching Berlin-new berlin film award 2008
for Film Distribution please contact:
mail@ma-motion.com
---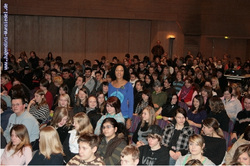 Roots Germania Filmscreening & Discussion, Wunsiedel
---
more Press

---
Road to Rainbow / Documentary 2010
"I cannot be me, without you" these are the wise words of the South African wisdom "Ubuntu" that Archbishop Desmond Tutu tells Mo Asumang before sending her out on her journey to find the Vision of the "Rainbow Nation" in South Africa. The Rainbow Nation, was supposed to replace the apartheid era. But did that really happen? And what did we see while the soccer world cup?

Together with the comedian Kagiso Lediga, Mo`s tour guide, they travel in a rusty old minibus to find out if black's, ands white's now live equaly together 16 years after the end of Apartheid. Politicians and other well known figure such as F.W. de Klerk (former president of South Africa), Helen Zille (Leader of the Democratic Alliance), Patricia De Lille (Leader of the Independent Democrats), Geoff Doidge (ANC Minister) share with Mo their opinions about the existance of the Rainbow Nation in South Africa.

But Mo and Kagiso find the truth in the lives of street children, township families, in the periphery of crime and security and by making friends with the little boy Inganathi, who is HIV positive.

"Road to Rainbow" portraits the image of a changing african society in an entertaining, profound, and, above all in a naive yet provocative way.

---
Director`s Statement
What makes South Africa for me the most interesting and somehow thrilling is its transformation. There was Apartheid that until 1994 suppressed the population for so many years. And then the vision of the Rainbow Nation was to replace that cruel time, but did it really do so? After my first visit to Cape Town in 1998 I was shocked: Segregation was still there, and the separation of rich white and poor black people was a fact of life. I absolutely could not stand such injustice. Since then I always had one sentence in my head: "South Africa, there is still a story between us." I came back to do this story, looking for the lost vision of the Rainbow Nation in 2009 in my Movie "Road to Rainbow". I wanted to see if South Africa had transformed and if blacks and whites now live together - and not just in the same country.

---
for Film Distribution (Road to Rainbow) contact media luna new films
---
New York Friends Premiere of "Road to Rainbow", kindly hosted at 92Y Tribeca - June 16th 2010
---
---
more Press
---



Berlin Friends Premiere of "Road to Rainbow",
kindly hosted by "Kino Central", June 24 th 2010,
​supported by "Gesicht Zeigen"

Kino Central, Rosenthaler Strasse 39, 10178 Berlin,

030-28 59 99 73 - info@kino-central.de

---